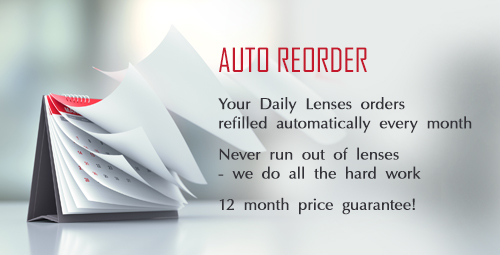 June 2020 - Ending Autoreorder
Since introducing the auto-reorder plan, we have continuously been monitoring the benefits of this compared to our original approach where our customers order when and if the lenses are needed.
After much thought as a team, we have decided we can offer a more competitive and effective service by introducing more regular discounts and offers to our customers as opposed to the auto-reorder price guarantee.
Therefore we will cease offering the auto-reorder option from 25th June 2020 and future orders require being made via our website or with customer support.
What is Auto Reorder?
It is our brilliant way to save you time and makes sure that you never run out of lenses again. To make it even better we guarantee the price that you pay for your products on auto reorder is guaranteed for 12 months. If the price goes up during the year, you won't be charged the extra, if it goes down, we will pass that on. Also, you can suspend or cancel the service at any time and get Free Shipping (UK only) if your order is over £35.
Auto-Reorder is being rolled out so is NOT available for all products (mainly daily contact lenses for now). If it is available for your product, it will show as an option during the order process as detailed below.
Auto Reordering Includes:
Your order refilled automatically
Never run out of lenses - we do all the hard work
12 month price Guarantee!
100% stock availability
If your order is over £35 - you still qualify for free shipping
Cancel or Suspend at any time!*
How to Start Auto Reorder
Place your order as usual i.e:
After you find your lenses, enter your prescription information using the drop down boxes provided and select the quantity of lenses that you require and click `Add to Basket`.
Next you will either sign in or create a new account.
Select the type of postage you want.
You will also see if your products are in stock or not and an estimated delivery time.
From here you can either select 'Pay Now Plus Include Auto Reorder' (if auto reorder is available for your product) or 'Pay Now`
Select 'Pay Now Plus Auto Reorder'

You can select (

see more

) to review your order details, and date schedule for Auto Reordering

Proceed to Checkout` where you will get an order number and can pay for the order with all major credit cards, debit cards and Paypal. Auto Reorder will be automatically set up for you.
Once payment is successful, you will get a confirmation page and despatch date for your order PLUS an email with details on Auto Reorder. You will also receive an email with your order information, plus another email with your Auto Reorder information. In addition Auto Reorder will be set in 'Your Account' and you can see the details there, by clicking on the Auto Reorder tab.

Relax and wait for delivery to your door for your current order - PLUS future orders will be automatically sent to you at the interval that you have chosen!
Do I have to pay postage on Auto Reorders?

If the total value of your order is over £35 then postage is Free in the UK. Non UK postage charges apply as normal. You are allowed to combine orders (for example partners/family) to qualify for Free post.
Can I Change the Reorder Interval because I am not using the lenses so often now?
Absolutely! Login to 'Your Account' and click on 'Auto Reorders'. You will see your Active Reorders and 'Change Reorder Interval' link. Click on this and change to a reorder interval that suits your needs better - it could be every 2 or 3 months, instead of monthly, or you can set a custom interval.
Can I cancel or Suspend Auto Reorder?
Yes. Login to 'Your Account' and click on the 'Auto Reorder' button.
From here you can easily cancel* or suspend*Auto Reorder and put future orders into an Inactive state. You can reverse this at any time. In addition, you can alter the Interval of Auto Reorders if you require a different schedule.
* Cancelling or Suspending Auto Reorder can only be done at least 5 days before your next order is due. Cancelling your order may disqualify you from 12 month price guarantee. See Terms & Conditions - Company Policies